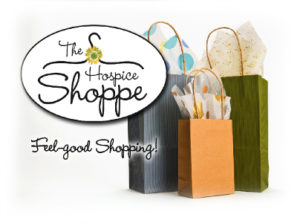 INCOME TAX RECEIPTS FOR DONATED ITEMS SOLD IN THE SHOPPE
The Hospice Shoppe
An Upscale Resale Experience
Visit our 4,000 square foot upscale boutique and see what's new each week. Savvy shoppers will find one-of-a-kind clothing and décor items at the best prices in town!
100% of the proceeds fund care at Bobby's Hospice, our community palliative care facility that cares for over 170 people each year who need in-patient palliative care and grief support. Some of these people are your neighbors, friends and perhaps even family members.
Thank You for helping us to help others.
Hospice welcomes donations of new and gently used treasures and is pleased to offer an annual charitable receipt for the value of your donations upon their resale in The Shoppe Donations can be dropped off at the receiving area off Ready Street during regular store hours only.
We accept items that are clean and in good working order:
clothing (women, men, youth and children)
accessories (shoes, scarves, purses, jewellery, etc.)
collectibles & Knickknacks
household goods (linens, dishes, china, kitchenware, bedspreads, curtains, table cloths, etc.)
furniture (please call first to ensure we have the space to accommodate your donation)
books (children's books, pocket books, hard cover novels, etc.)
paintings and pictures
Sorry, but we CANNOT accept the following:
No    appliances, microwaves, BBQs, electronics
No    beds & mattresses
No    computers, TVs, stereos, cameras
No    children's furniture, equipment, toys
No    sports equipment
No    CDs, records, tapes
No    National Geographic, Readers Digest, encyclopedias, text books, magazines
No    items that are non-functioning, torn or not in good condition
77 Catherwood St,
Saint John, NB E2M 7X1
(Wheelchair accessible & on bus route)
(506) 649-2762
Monday – Saturday
10:00 am – 5:00 pm
(Thursday & Friday until 8:00 pm)
Cash or Debit Card only
(NO cheques or Credit Cards)
All prices are marked and merchandise is sold AS IS. There is no bartering or negotiating on the prices set by The Shoppe.
All sales are final. There are no refunds, returns or exchanges.
The Shoppe is unable to hold items in reserve or offer lay away.
The Hospice Shoppe has over 70 volunteers who generously donate their time and expertise to work with our staff at the store. We are constantly in search of volunteers and welcome you to join our team at The Shoppe. Volunteering is fun, interesting, and you get to work with some of the nicest people, and go home each day knowing you have made a difference in someone's life. If you have a special talent or just some time to spare, join our Shoppe team. You'll be glad you did!
Volunteers help with:
assisting customers
working on the cash
sorting and pricing merchandise
creating displays
organizing racks
recycling
special projects
For further information on volunteering at the Hospice Shoppe, contact us at 649-2762!
Community Partnerships and Recycling
Hospice is committed to supporting our community non-profit partners and recycling as much as possible. All excess goods not sold in the Shoppe are donated to New Brunswick Community Living who sells it to Value Village. The revenue they earn from these sales helps fund their many programs and services for people with intellectual disabilities and their families. We also share special items we cannot sell with other local charities to help with their work.
How your Donation to The Hospice Shoppe Benefits Our Community
The Hospice Shoppe is an upscale second-hand boutique that sells high quality clothing and household items that are current and like new. Our prices are in keeping with used items for sale at other local second hand shops, ie, Value Village, Frenchies, Exchange on Germain, etc.
If your donation is selected for sale in The Shoppe, your donor number will be placed on the sales tag and your item will be put for sale in The Shoppe at the time when it is
most likely to sell.
If your donation it is not selected for The Shoppe, it will be donated to NB Community Living who will sell it to Value Village and use the funds to care for people in NB with an intellectual disability.
Merchandise in The Shoppe must move quickly. If your item does not sell in a timely fashion, it may be put in the discount section at one-half the original sale price or it may be removed from The Shoppe and donated to NB Community Living.
Your donations that sell in The Shoppe are eligible for an income tax receipt for the value paid by the customer. It will be mailed to you by March of each year.

All of your donations made to The Shoppe are helping someone in need. If they sell in The Hospice Shoppe, the revenue helps us provide in-patient palliative care at Bobby's Hospice. If it is donated to Community Living it helps people with an intellectual disability. It's a win-win!